How many of us remember running to one of our parents after taking a tumble off our bike? Summertime recreation in Colorado means riding our bikes, and biking in Evergreen offers a ton of trails and neighborhoods to do this, but we need to be safe!
After they learn to ride, kids need instruction on biking safely and wearing helmets.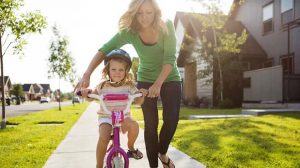 As the school year winds down, most children are looking forward to getting out on their bicycles. To help your young cyclist enjoy safer riding this summer, follow these tips from the League of American Bicyclists.
Helmets: Helmets are the single most important safety device for reducing head injuries among cyclists. So make it a rule: no helmet, no bike. Be sure the helmet is fitted correctly so that it can provide optimum protection. Let kids pick out their own helmets: They'll be more inclined to wear them. And set a good example by wearing your own helmet, too.
Bike Size: Make sure the bike is sized correctly to the child. Don't put children on bikes they will "grow into." Their feet should be able to touch the ground when they're straddling the bike seat.
Learning to Ride: Children can be bike passengers (in child seats or trailers) as soon as they can hold their heads up and wear helmets. Once they have basic motor skills, often around age 5, they can try bikes of their own. Use training wheels at first, moving them up slightly as your child can balance more confidently. Have your child practice riding both in a straight line — such as along the lines in a vacant parking lot — and in circles to improve balance. Teach bikers how to use the brakes, too.
Traffic: Until they ride bikes on their own, children have only been passengers, so be sure to tell them about how to yield, pass and stop safely. Remind bikers that they'll need to follow the same traffic laws that other vehicles do. Point out potential hazard areas, such as driveways and crosswalks, and teach them hand signals.
Rides and Routes: Plan riding routes together and let your child take the lead on a ride. Try rides to the school, a friend's house or a nearby park, increasing or varying the rides as your child gains confidence and stamina.
To learn more, review the "A Right to the Road: Understanding & Addressing Bicyclist Safety" report with 30 Life-Saving Action Steps for States, funded by a grant from State Farm®.
Here at the Michelle Boley, State Farm office in Bergen Park, we are "here to help life go right."  Give us a call to review your car, home, and life insurance.  We understand the risks associated with Evergreen and are competitively priced to give you the best options for what you need to be covered.
State Farm Insurance / Michelle Boley
303-674-0606 | 303-674-1016
michelle.boley.nser@statefarm.com
Our Blog Wars was a huge success! Please feel free to submit a blog anytime.