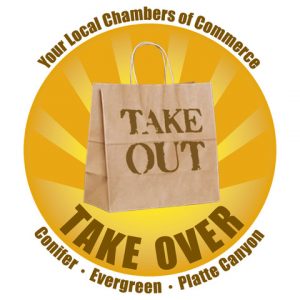 The Evergreen Chamber is joining forces with other Jefferson County Chambers and pushing out
TakeOut TakeOver. Retail Stores & Restaurants offering take out /curbside pick up will be added to this list as information becomes available.
ALL RESTAURANTS ARE NOW OPEN FOR IN-PERSON DINING
Interactive Map by Macaroni Kid
Don't forget to be Eco-friendly! Please recycle your to-go containers, and when you call to place your order to go, let the restaurant know to hold the plastic silverware and napkins if you already have some at home.
All of our business owners are people too!
They thank you so much for your support at this time.
Restaurants Owners and Managers:
Offering Take Out or Delivery and don't see your business on our list?
Please send an email to admin@evergreenchamber.org with your business name, phone number, web address, and let us know if you are offering take out, delivery, or both. You MUST be a member of the Evergreen Chamber to be listed.
Many of you are adapting your business model to take out and/or delivery.  If you are not using a third party for your delivery services and your own employees will be doing this, please make sure they have the proper insurance coverage. Most policies do not provide coverage for an accident during delivery. Please have your employees contact their insurance provider and make sure they have the proper coverage for this service.  If you would like to speak to an insurance agent, please reach out to one of the chamber members --click here for the directory.
Shop Evergreen - Gift Certificate Sale Program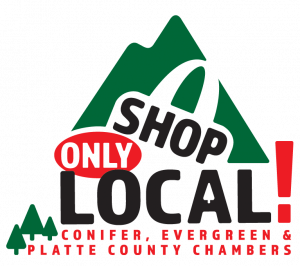 You can now buy gift certificates to MULTIPLE local merchants
in just one location- *the Chamber!
SHOP LOCAL ONLY and SHOP NOW! 
*Every Monday from 9-4 you can come by the Evergreen Chamber Office to pick up your gift certificates and a receipt. All money collected will go directly to the merchants.
Want to be included in our Gift Card Program? Send an email to admin@evergreenchamber.org. All businesses on the gift card program are proud members of the Evergreen Chamber and thank you for your business.
Many of our members have been working to put together a plan or services to help
businesses continue to make money and serve the community, while encouraging social distancing as much as possible.
During these turbulent times, it's important that our community stick together and support each other. If any of these service can help your business during this time of uncertainty, please don't hesitate to reach out to the business owners.